Compare Sports

- Sports Gear, Equipment, Sportswear
High5 Energy Drink
The new generation High5 Energy drink has been designed to be taken before and during exercise. Research on traditional sports drinks suggests that you can only consume 60g carbohydrate per hour, however, because High5 s new generation Energy Drink is a 2:1 fructose mix, you can consume substantially more carbohydrates up to 90g per hour in fact. That means you get 50% more energy!The electrolyte level in Energy Drink should be adequate for most race conditions. However, when temperatures are high and you produce more sweat than usual we recommend adding a High5 ZERO Neutral tab to Energy Drink to give you even more of an electrolyte boost.Consume up to 90g of carbohydrate per hourWith natural flavours. No artificial colours, preservatives or sweetenersServings per 1kg Jar: 21 x 500...
Price: £8.50 from Tweeks Cycles
About the ENERGY DRINK 1. 0KGHIGH5 Energy Drink is scientifically formulated to help you sustain performance and enhance hydration during endurance exercise. Energy Drink is a carbohydrate and electrolyte in solution. During endurance exercise your body...
---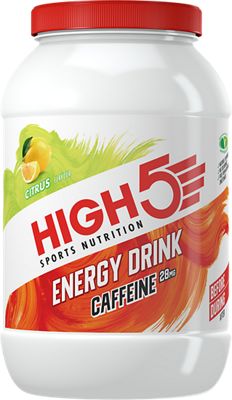 Energy Drink Caffeine Citrus 2.2kgHigh5 Energy Drink Caffeine is a new generation sports drink for use during exercise. It contains a carbohydrate formulation of maltodextrin and fructose in a ratio of 2:1 and key electrolytes.Energy Drink Caffeine is...
---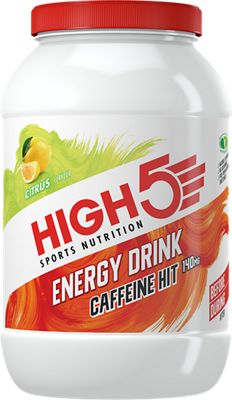 High5 Energy Drink Caffeine Hit Citrus 1.4kgHigh5 Energy Drink Caffeine Hit is a new generation sports drink with a high caffeine content. It contains a carbohydrate formulation of Maltodextrin and fructose in a ratio of 2:1 combined with key electrolytes,...
---
Related Products from
Notice: BestPriceCheck.co.uk is part of the amazon.co.uk / EU affiliate program. When you click links and buy from amazon, we may receive commission.